Kannan and Suganthi Marry!
Our manager Kannan here on the right married Suganthi who is one of the children's house mothers! So we have a love connection here at the Children's Home,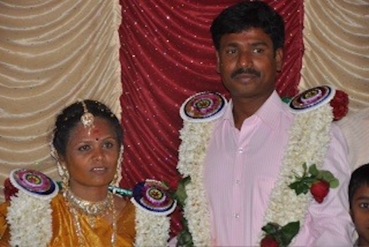 When I was in India this past January I spent an afternoon with Kannan who manages our Children's Home in South India. Kannan was himself an orphan and Satya has been his mentor for the past ten years. Satya decided to put Kannan to work at our Children's Home to take over management of the kids. That was over four years ago now and he has done a fantastic job with the children. Since Kannan is 32 years old I had a discussion with him about the possibilities of him marrying soon. I told him that he would have to find someone who loved the kids as much as he did and he completely agreed.
Just a few weeks after our conversation the father of one of our young house mothers came to Satya saying that he was very impressed with Kannan and how he manages and loves the children. He went on to say that it was his desire to offer his younger daughter (28 years of age) to Kannan for marriage.
.
As you can imagine, the children were all very excited about the wedding. This was the highlight of their year! 
Kannan is a village boy and has brought himself up out of poverty by getting a masters degree. He could have a much higher paying government job yet he stays with us because he loves the children and believes in our mission. Suganthi also loves the children and she and her sister have been house mothers for our kids for three years. I can see the newly married couple being the stability of our Children's Home over the years to come.
These two siblings were with us for four years and now are back at home with their newly married mother.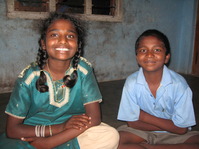 This is brother and sister Santosh and Sasikala. Their mother was widowed over 8 years ago and the two siblings have lived at our children's home for the past four years. Widows in India live with their deceased husbands family and so it is very rare for a widow to ever marry again no matter how young she might be. So the good news is that these children's mother found a man to marry and the new couple wanted the children to come back home so they could live together as a family. We were very sad to see Sasikala and Santosh leave and they will be missed. We do check in on them and they are very happy and doing well in school. You see Sasikala was one of our brightest students and has aspirations to be a doctor. We will continue following up with her to make sure she can fulfill her desire for college.
We have NINE new children!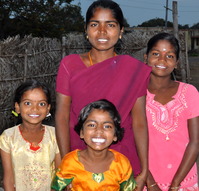 There is huge a need in India for homes such as ours. We are unique in that we are privately funded by individuals. We have no government or corporate funding and we rely on the generous support of our friends and family.  People hear about us on facebook and visit Satya's Sunshine Guesthouse in India and meet our children in person.  You can come and meet our children in India anytime!
This is Sheela, Rajeshwari and Abignaya with their widowed mother. We found these young girls on a government list because their mother lives very much below the poverty line was receiving help from the government. We hired this young widowed mother of three to wash clothes at our Childrens Home and so now the three sisters and their mother live together at the Children's Home. The girls would be living in the street and not able to attend school if they were not living with their new extended family.
If you have ever contemplated sponsoring our children, now is the time. With nine new little additions our expense have risen a great deal. We also have the intention of having all of our children attend English Immersion school in the near future. At the present time 11 of our children attend English school. The government school that the other 31 children attend is $40 a year per child. The upgrade into English school will cost $260 more per child. We have now reached 42 children at the Global Watch Foundation Children's Home. You can go to the kids website or 
email me 
for more information about becoming a sponsor to our kids.